The membrane modules of ours are applicable in large-scale integrated equipment.
Large- scale integrated equipment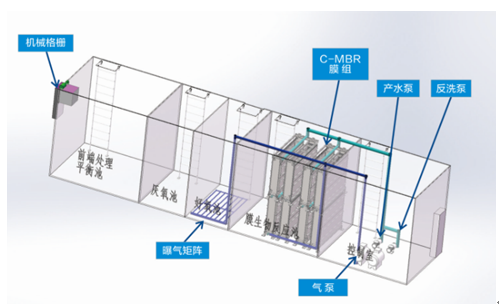 Operation introduction: with super high biomass and low aeration rate , it is made by combination method of highly efficient membrane separation technology and biological activated sludge process, to entirely prevent microorganisms、germs and virus in biological reactor, to deal with facultative organisms, synchronously deal with sewage and sludge, and to synchronously remove nitrogen and phosphorous. The effluent with excellent quality is able to be recycled directly.
Advantages:
High density of activated sludge, long sludge disposal period, less sludge production volume under biological autolysis
Stable effluent quality, effective for highly dense organic waste water
Secondary sedimentation tank not required, land occupation-saving
Low energy consumption, big filtration flux, low operation cost
Assembled foot stool design, simple and flexible
Convenient to be installed and maintained
Mini-type micro-integrated equipment
Micro-integrated equipment: solve reclaimed water reuse problem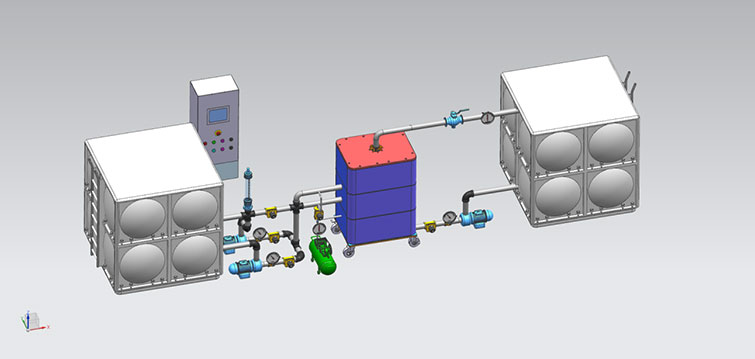 Operation explanation: It is composed by plate ceramic membrane acting as core module and support preposition and postposition function modules. Meanwhile, it uses pure water to back wash, which is highly automatic and is able to achieve reclaimed water reuse. It is applicable mainly on carwash、hot spring 、bath and spring and administrations、new rural areas、express way service station、drinking water and emergency water supply of vocational villages etc.
Advantages:
Traditional sintering, excellent physical performance
Stable chemical performance, resistant to acid base and organic solvent
Excellent rigidity and mechanical intensity, able to be back washed
Resistant to erosion of microorganisms, unable to react with microorganisms
Resistant to high temperature and abrasion
Strongly resistant to pollution
Tight volume, easy to be composed
Module composition, able to be removed and installed on-site
Able to conduct module composition according to water quality
Less additional or pre- process
Easy to maintain and to be replaced
Easy to be cleaned and simple to operate, able to clean with steam or bleach
Excellent membrane regeneration performance, applicable in strong acid and strong base
High separation efficiency of membrane, able to directly replace traditional chemical synthesis membrane module
Excellent hydrophily, energy-saving
More durable than traditional chemical synthesis membrane